A Giraffe and a Half
Written by Shel Silverstein
Reviewed by Sasha R. (age 8) & Skye A. (age 7)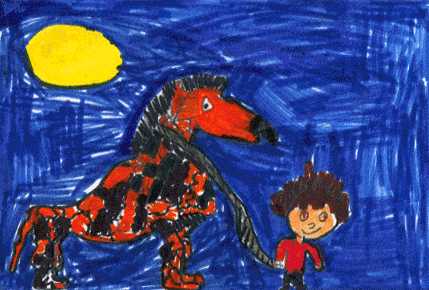 This story is about a giraffe who gets in trouble with animals because he uses the animal's belongings. For instance, he used the rat's home for a hat. What animal does he run into next? Does all the stuff ever fall off of the giraffe? Does he ever get tired? Is the giraffe a girl or a boy? Read this book and see.
We liked this book because it is so silly how a rat was in the giraffe's hat. Our favorite character was the giraffe because he gets in trouble with all these animals. Skye's favorite part was when the giraffe played "toot on the flute" because to imagine a giraffe playing a flute, now that's silly! Sasha's favorite part was when the giraffe glued a rose to his nose, and you've got to admit, that's silly too. We liked the beat in the story and how it flows.
We recommend this book to people who like crazy comedy fiction books because this book is hilarious! We compare this book to Dr. Seuss books because Dr. Seuss is hilarious and silly! We hope you enjoy this book as much as we did!