The School Bus Driver from the Black Lagoon
Written by Mike Thaler
Illustrated by Jared Lee
Reviewed by Brandon U. (age 8) & Katie R. (age 7)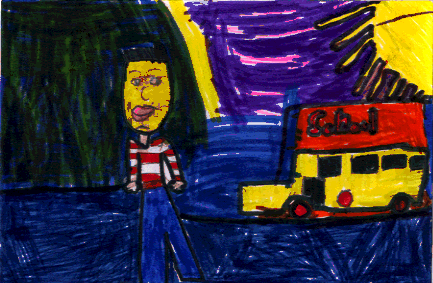 This book is about a boy who is going to get a new bus driver. The bus driver's name is T. Rex and he has a guide dog. People heard that he lets his guide dog do most of the driving. T. Rex drives like he's in the Indy 500. He drives so fastthat he makes the children throw up. Is the boy going to step on the bus? Read the book and find out!
We thought this was a good book because it was very funny when the boy was thinking of bad things that the bus driver did. Our favorite part was when the bus driver was driving like he was in the Indy 500. We liked it because the bus driver said, "Let's see what this baby can do!" When we read the book, it made us feel excited when the bus driver was in the Monster Truck Show and when the author wrote, "Driving to school can be a real drag." We really liked the pictures in the story, like when all the race cars raced really fast in the Indy 500. We think the illustrator put a lot of detail in the pictures, which made the book funny.
We recommend this book to people who like funny fictional books. We think people who like silly books should read this book too because the boy is very silly. If you like this book you will like the rest of the Black Lagoon series because all of the books are so good.