Baseball Ballerina
Written by Kathryn Cristaldi
Illustrated by Abby Carter
Reviewed by Jaclyn S. (age 8) & Vinica W. (age 8)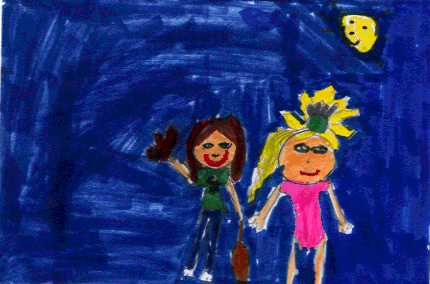 This story is about a girl who loves to play baseball, but her mother thinks it's for boys and says she has to take ballet. But then she didn't want her friends to know she was taking ballet. The girl in the story hates ballet and says, "I have pink tights and pink slippers. Mom puts a pink ribbon in my hair. Pink is for girls." She doesn't want her baseball team to know. Will they see her or not?
The girl in the story does not like pink and neither do we. We like the illustrations in the book because they're colorful and certain colors stand out. We like the colors, especially the leotards on the girls and mostly the light blues and pinks. We used to take ballet and we quit, but now Jaclyn wishes she hadn't.
Our favorite part in the story is when the girl jumps up and grabs her friend's crown when it flew up and everybody cheered. It is our favorite part because she knew that her friend loved that crown, so she didn't just stand there, she leaped up and grabbed it.
We recommend this book because it has great illustrations. We think you will enjoy them. We think this book will be good for 5-8 year olds. If you like this book we think you will like a lot of Abby Carter books because they are really good. We think this book is good because it has a nice story.