The Gym Teacher from the Black Lagoon
Written by Mike Thaler
Illustrated by Jared Lee
Reviewed by Vuyi B. (age 8) & Zachary J. (age 7)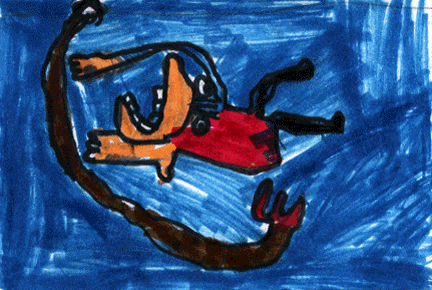 This book is about a boy named Hubie being scared of a gym teacher. He makes you do lots of weird stuff. If you don't reach the top of the rope he'll set it on fire. He also makes you play Dodgeball with his truck. We would tell you more, but read the book and find out.
Our favorite part of The Gym Teacher from the Black Lagoon is when Mr. Green makes them play Dodgeball with his truck. It is funny when the kids are running like crazy. We have two favorite characters, Hubie and the gym teacher, because they're the main characters and are they are very funny. We read many books in this series.
We recommend this book to an early reader because it is very easy. If you like sports and funny books you'll like this one. You'll like this book if you like other Black Lagoon books. We like the part when the kid gets burnt on the rope. We hope you have a good time reading it.