The Search for the Silver Persian
Written by Carolyn Keene
Reviewed by Erica H. (age 10)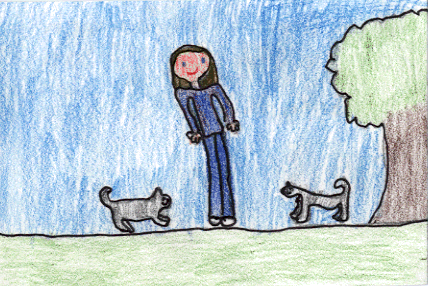 Has your cat ever run away or gotten stolen? In this book Nancy Drew and her friends are trying to find two Silver Persian cats that look the same. One Persian is Purrfect. Andrea Cassidy is Purrfect's owner. Right before Purrfect's show Purrfect is kidnapped. The other Persian is Desdemona. Her owner is Sean Dunleavy. Desdemona is stolen right before her show. The cats are stolen when their owners aren't looking. Once Nancy finds the thief in a tool shop ... you will have to see if Nancy gets the Persians or the thief does.
I liked The Search For The Silver Prsian because I felt like I was solving the mystery. I was trying to help Andrea Cassidy. To find her cat Purrfect. This book is like The Message In The Haunted Mansion because the helpers were the people who stole or made lots of trouble for the owners. My favorite part is when Nancy catches the cat-napper because she had found the napper in the tool shop so she had to be quiet.
I recommed this book to boys and girls who love mystery books and people who love cats. If you like to read books in a series and books by Carolyn Keene you should read this book. Read this book and you could be a detective.