Nate the Great and the Snowy Trail
Written by Marjorie Weinman Sharmat
Illustrated by Marc Simot
Reviewed by Saad A. (age 9) & Wesley M. (age 8)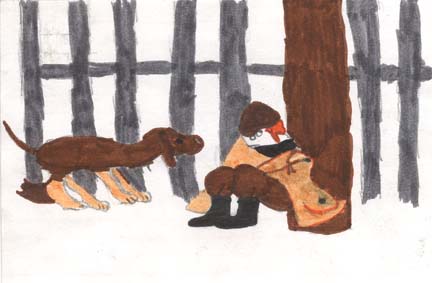 This book is about a boy Nate the Great. He was making a snow man then his friend Rosamond came. Rosamond told Nate that she lost his present. Then had a case for finding his birthday present. Nate saw Rosamond?s foot prints in the snow. Then Nate started to look for his present there.
We liked the part when the cat jumped into the tree because Nick couldn?t find his birthday cat and so he walked in circles on the spot where Rosamond was standing. Wesley liked Rosmond because she is silly, like when she bought Nate an ugly birthday card. We like the illustrations because they help us understand the story.
We like this book so much we would read it again. We recommend this book to people who like mysteries because this is a good mystery book. We also recommend this book to people who like comedy because this is a funny book. We recommend this book to all kids our age.