Westward to Home
Written by Patricia Hermes
Reviewed by Cameron N. (age 10)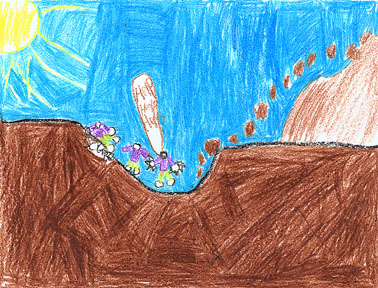 This is the story of a boy named Joshua who goes on an epic adventure to Oregon with his family. He comes into danger along the way. He gets stuck in a hole and also gets scared that he won?t be able to make the trip. His friends go with him, too. Their names are Sarah, Bobbi, Becky, Daniel, Buster, and Charlie. He meets new friends and visits new places along his journey. Read the book to find out more. I hope you like it.
I think this is a great book, because Josh gets into adventures, and I love adventures. I also think it is scary when he is in a hole for an hour. It is like my life because I broke my arm, and in this story the grandpa lost his arm in an encounter with a bear. My favorite part is when the whole family stays with the Indians. This is my favorite part, because what seemed like a dangerous situation turned out to be helpful.
I would recommend this story to other boys and girls my age who like adventure stories. I?m ten, and I think nine and ten-year-olds will enjoy this the most. This book is part of the My America series. I hope you read Oregon Trail some day.