Stargirl
Written by Jerry Spinelli
Reviewed by Kiara B. (age 10)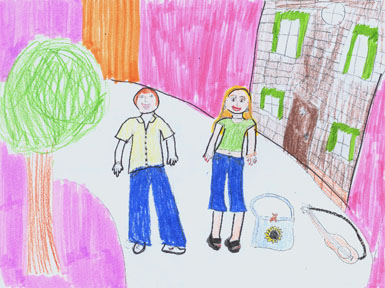 Stargirl is about a boy named Leo, who lives in Mica, Arizona. He is a regular boy with a regular life, and a regular school. Nothing exciting ever happens, until something unusual does. There is a girl who comes to school who is so original that she inspires everyone else to be original themselves. Her name is Stargirl. Leo falls in love. She plays a ukulele and a rat comes to school with her every day. She wears wild clothes. She is great, until she becomes a cheerleader to try something new. The whole school thinks that there is one thing you have to do no matter what?cheer for your own team. Stargirl doesn?t think like anyone else, though. Now there is nothing that will make anyone talk to her, except Leo and her parents, of course!
I really enjoyed this story because it was unlike any other book I?ve ever read. When I read this book I was sad, happy, and excited. I was sad because they hated her for cheering for the other team. Also, there are not many real people like that in the world. She is very understanding, nice, and never cheats. Also, she is not in the least bit selfish. I was happy, because I think it is a great book and I love reading. I was also a little jealous. I wish there was someone like that in my school!!!
I recommend this book to anyone who loves a good, sad, funny, and exciting book with an unexpected ending. I would say that if you are under second grade, you might not understand it, but you could try it anyway if you want. Teenagers would like it, too. I think that it is mainly for my age, 10. Anyone could like it. If you are a fantasy-lover, this might not be the best book for you, but then again, maybe you?d like it. If you like real-life stories that have unexpected things, this is the book for you!!!!!!