The Lion, the Witch and the Wardrobe
Written by C.S. Lewis
Illustrated by Pauline Baynes
Reviewed by Ariel H.K. (age 9)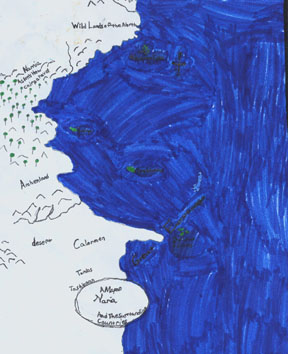 The Lion, the Witch, and the Wardrobe is about 4 kids who found a world of ice and had to solve a problem there. If you can believe it they found the world in a wardrobe. The stars of the book are 2 boys Peter, the oldest, Edmund, the second youngest, and, 2 girls, Susan the second oldest, and Lucy, the youngest. Oops, I almost forgot there is a witch. The witch lives in a castle. Whoever does not listen to her she turns into stone. I will tell you one more thing, but you will have to read the rest to learn the ending?well, the witch casts a spell on the world and that becomes the problem the kids have to solve.
I love this book because I love adventures and magic. I also like some of the characters like the sea otters I forgot to tell you about. I like the sea otters for two reasons. Reason #1 is that I love sea creatures. Reason #2 is that in this story they have a cute little house and they are nice. This is my kind of book and I think it will be yours, too. While I was reading a story I found myself dreaming about my own imaginary world. I hope someday I find one in an odd place.
I would recommend this book to 2nd graders and up. Why? Well, it is not because it is scary, but because it has some hard words. I think this book will be fun for every one. Oh yeah the book is part of a series by C.S. Lewis. Read them all!