The Giver
Written by Lois Lowry
Reviewed by Raphael B. (age 9)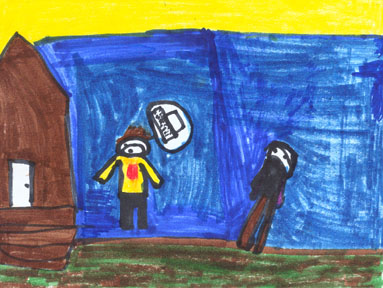 The Giver is about a twelve year-old boy named Jonas. He has to make big decisions for the rest of his life, when he turns twelve. He lives in a totally different world than our own. In his world there are a lot of differences in how twelve year olds are treated. If you?re twelve, like Jonas, you must have your life planned out. Read the book to get all of the details.
I liked this story because it sparked in my mind an image of other people?s lives. When I read this book my reaction towards the book was that I was shocked at how the book was very intriguing. My favorite part was when Jonas meets The Giver because he learns something about our world. The Giver gives him memories of our world. In this book age matters a lot because of the momentous decisions that are made when someone turns twelve. I?m ten years old and twelve is only two years away.
I would recommend this book because it is a very intense. This book is a middle school book. You can learn a lot from this book about all the rules that there are in his society and how hard other people?s lives are sometimes. I would recommend this book to anyone aged 9 ? 12.