The Mouse and the Motorcycle
Written by Beverly Cleary
Illustrated by Louis Darling
Reviewed by Isaac D. (age 10)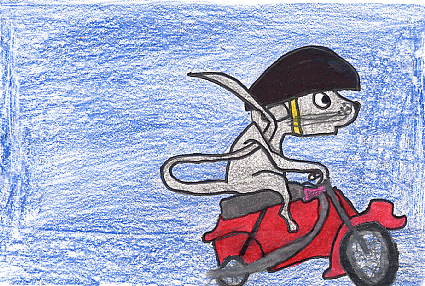 Have you ever seen a mouse riding a motorcycle? Well in this story Ralph (the mouse) rides around in a hotel on Keith?s (the boy?s) toy motorcycle. He is only aloud to ride it at night. One morning, when Keith was gone, Ralph was tempted to ride the motorcycle. When the maid was in the room cleaning, Ralph started the motorcycle so fast he lost control, and ran right into a bunch of white sheets. He was trapped and couldn?t get out. He chewed out of the mess and got back to his hole. He told Keith and Keith forgave him. Keith told him he would start bringing him room service if he wanted. His family liked the room service, but Keith started not bringing as much. Ralph asked what was wrong; Keith told Ralph that he has a fever. Keith?s parents couldn?t find any aspirin, so Ralph was going to look everywhere in the hotel. Does Ralph find an aspirin in time? Do they find the motorcycle? Read this book to find out.
I think this book is an exciting and suspenseful book. It?s an exciting book because it?s nonrealistic and suspenseful. It?s suspenseful because you don?t know what?s going to happen next. I like it because I like those kinds of books. My favorite part is the ending because Ralph was being risky trying to find an Advil. I found Ralph interesting because, he was a mouse that could ride a motorcycle. I can not relate to Ralph because he likes cars.
I recommend this book because it is funny and exciting. It is also suspenseful. I recommend this book to people who like cars and exciting books.