Altoona Baboona
Written by Janie Bynum
Reviewed by Marcos M. (age 9)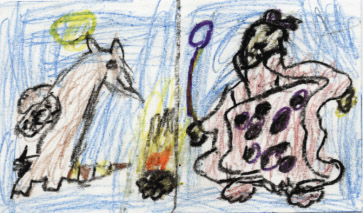 This book is about a monkey named Altoona Baboona that went up in a balloon. She was bored and was throwing peas with a spoon into the sink. She found a balloon and wanted to go up and see other cities. She went to see Mexico. Then she hears music and goes down there and sees a raccoon making music. She also sees a bird. She went up in the sky over the clouds that were raining. The balloon went down and Altoona Baboona remembers all the places she went and friends she met.
I like when she was throwing peas because when I am bored, I throw peas. I like the pictures because they are colorful. I also like when she goes to Mexico because I want to go there. My favorite part is when she saw the loon because the water and the boat are there.
People who want to go to Mexico and other places may like this book. If you want to go up in the clouds, you might like this book.