Harry Potter and The Goblet of Fire
Written by J.K. Rowling
Illustrated by Mary GrandPre
Reviewed by Isabella R. (age 10)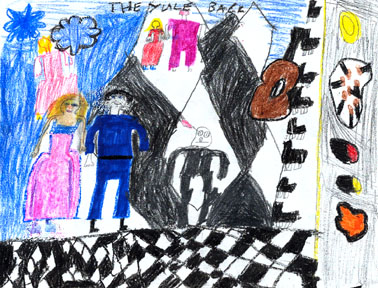 Harry Potter and the Goblet of Fire is a fantastic book. It is by J.K. (Joanne Kathleen) Rowling. Wow, it is 734 pages long. In this book Harry Potter goes back to school for new adventures. The wonderful illustrator is Mary Grandpre.
Harry Potter and the Goblet of Fire is about Harry Potter going back to school to meet up with his friends, seeing some old ones, and making new ones. Harry?s year is based on a tournament that comes very rarely. The tournament involves two other schools (one with a celebrity). A very important person teaches Defense Against the Dark Arts (since Professor Lupin quit even though Professor Dumbledore didn?t care that the whole school knew he is part werewolf). Harry, Hermione, Ron and the rest of our stars have many adventures including?The Yule Ball, The Quidditch World Cup, and the most important Triwizard Tournament. Oh, yeah watch out for Lord Voldemort and his Death Eaters.
I love this book! This book is adventurous, mysterious, and you can never put it down! I had a million favorite parts (some will give the book away so I can?t tell you). One of my favorite parts is the Yule ball. Another part I love is the three tasks Harry must do as well as his other opponent. I also liked the Quidditch World Cup. I like all these parts because they are very fun and interesting. This book has similar parts with the other Harry Potter books. For example, the Polly juice potion. Be careful with the Polly juice potion it can be dangerous. When I was reading this book I felt I was in a fantasy, and all my dreams came true. I liked almost all of the characters. This book is different from other books I have read, BUT?that?s part of why I like it. This book does not remind me of my life. All the books make me wonder about what? s going to happen next. I like the illustrations, because they are small and there is one on the beginning of each chapter. This book is special because J.K. writes with a gift and you can never put the book down.
I recommend this book because it is fun adventures, mysteries, and brings a lot of curiosity to your mind. This book is for advanced 2nd graders to all ages after that. There is action the whole time. Harry and Ron never break the rules. They just bend them. I think J.K. Rowling will go down in history. Watch out in this story some good people can be bad.