Brave Norman
Written by Andrew Clements
Illustrated by Ellen Beier
Reviewed by Grace K. (age 8) & Adi M. (age 7)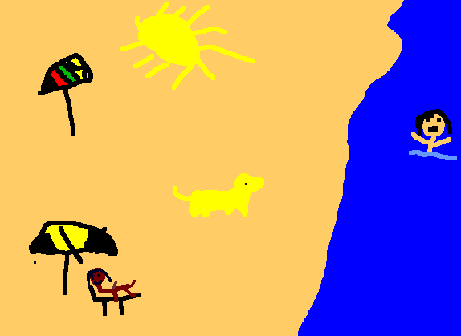 Do you like dogs? Norman was a dog that no one wanted until Steve McDonald came to the animal shelter. Norman was happy he was picked by such a nice family. One day he started bumping into things. The family took him to the vet and found out that Norman was going blind. The McDonald family still loved Norman no matter what. Norman loved to go to the beach. One day a girl had trouble swimming. No one heard her except Norman. Can a blind dog save someone's life? Read this book to find out what will happen to the girl and to Norman.
We like when Lucy, the dog, was kind to Norman. Lucy knew Norman needed help. She walked close to him so that Norman didn't bump into things. We think this book is great because Norman has a good heart.
We recommend this book to people who like to read stories about pets who come to the rescue. If you like dogs and heroes this is the book for you!