Turtle Bay
Written by Saviour Pirotta
Illustrated by Nilesh Mistry
Reviewed by Gil S. (age 8) & Katie K. (age 7)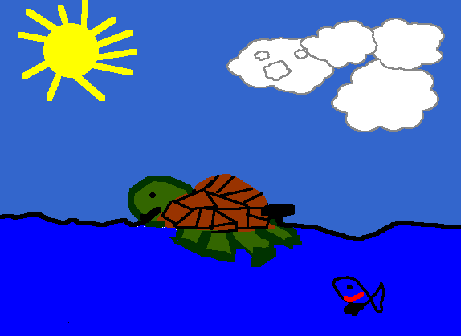 Jiro-San is a wise and old man who knows many things about the sea. Taro, a young boy, is a friend of Jiro-Sans. Jiro-San teaches Taro about the sea. Yuko is Taro's sister. Yuko thinks Jiro-San is weird because he was sweeping the beach with a broom. Yuko changes her mind when she realized that Jiro-San was very smart. Jiro-San taught Taro and Yuko many things about Turtle Bay. Do you think the turtles eggs will hatch? You have to read this book to find out what happens.
We think this book is great because it makes you excited waiting to see if the turtles would come to Turtle Bay. We thought the turtles might not come because the beach was dirty. We also liked that the author told us about sea turtles in the back of the book. We didn't like Yuko, Taro's sister, because she thought Jiro-San was weird but happily Yuko changed her mind about Jiro-San. We liked the author's writing style. The writing made us feel like we were there.
We recommend this book to people who care about turtles. We also recommend this book to people who think turtles are cool. If you like nonfiction information in a fiction story you will like this book.