Strega Nona
Written by Tomie dePaola
Illustrated by Tomie dePaola
Reviewed by Jennifer L. (age 7) & Daphne S. (age 8)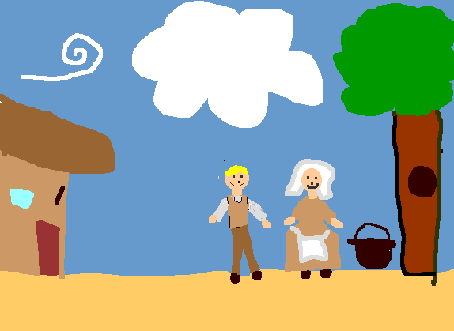 In a town in Calabria there was a woman named Strega Nona (which meant Grandma witch). People talked about her in low voices. People went to see Strega Nona anyway because she had magic. She made potions for headaches and husbands and warts. But she was getting old and she needed help to watch her house. Big Anthony went to help Strega Nona. She gave him coins and a place to sleep. "Don't touch the pasta pots" said Strega Nona. Then one day Big Anthony saw Strega Nona singing, "Bubble, bubble pasta pot boil me some pasta nice and hot. I'm hungry and it's time to sup. Boil enough pasta to fill me up." "That's a magic pot," said Big Anthony. Strega Nona called Big Anthony in the house for supper. Too bad he did not see her blow three lovely kisses to the pasta pot. The next day Big Anthony went to the town and said Strega Nona has a magic pot and everyone laughed. "I'll get the pasta pot someday," said Big Anthony. Will Big Anthony ever touch the pasta pot? Read this story to find out!
We liked the book because it taught us a lesson. When you want something you always have to ask. We love the illustrations because the pictures are colorful and beautiful. In the beginning we felt that this book was just an ordinary boring book. However, when we got to the middle we wanted to know the end so badly. Our favorite part was when Big Anthony saw Strega Nona singing Because the song had rhyming words. This book earned the Caldecott Honor.
We recommend this book to people who like pasta. People who like funny picture books will like this book too. This reminds Daphne and Jennifer when they get in trouble doing things they shouldn't do.