The True Story of the Three Little Pigs
Written by Jon Scieszka
Illustrated by Lane Smith
Reviewed by Keita O. (age 9) & Mikhiel D. (age 9)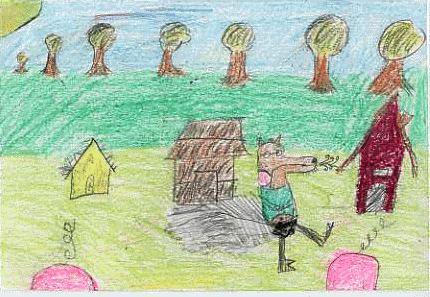 Have you ever seen a wolf who wants to make a birthday cake for his grandmother? We read about one. He runs out of sugar so he goes to his neighbor's house to borrow a cup of sugar. His neighbor was a pig. The wolf knocks on the straw door and the door falls in. He calls to his neighbor and no answer. He feels a sneeze coming on and he huffs and snuffs and sneezes a great sneeze ( by mistake). The house fell down. He decides to eat his neighbor. He then decides to go to his second neighbor's house to get a cup of sugar. If you want to find out the story from the wolf's point of view you should read this book.
Our opinion is that the pictures are not real, but they are funny. The pictures have good detail and show the background very well. Our favorite part is when the wolf makes a cake and finds out that he has no more sugar. We liked that part because there is a lot of detail and it shows that the wolf is sick by his nose running and there is a thermometer in his mouth. This book reminds Keita of a book called, "The Three Wolves and the Mean Pig." This book reminds Mikhiel of a time when he went to borrow a cup of sugar for his mom.
We recommend this book to people that like to read picture books and for first and second graders because it is easy and funny. This author wrote his story in newspaper style.