Doctor De Soto
Written by William Steig
Illustrated by William Steig
Reviewed by Frankie N. (age 9) & Melissa K. (age 9)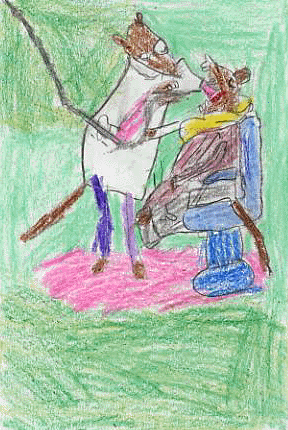 This mouse is not an ordinary mouse because he is a dentist, who doesn't work on cats or other dangerous animals because cats eat mice. His patients are big, medium, and small animals. One day a fox comes and the dentist mouse lets him in. The fox really wants to eat the mouse, but Doctor DeSoto doesn't get eaten. Doctor DeSoto pulls out the tooth and gives him a gold tooth. Doctor DeSoto tricks the fox by painting his teeth together so he wouldn't get eaten. The lesson is to never judge something by how good it tastes or by how small it is.
We liked this book because it stuck to one idea. The illustrations really complimented the words. The drawings reminded us of a cartoon. Our favorite part of the book was when Doctor DeSoto put gases up the fox's nose and when he painted his teeth together. The fox changed his mind and he decided he would wait a day to eat Doctor DeSoto. The unique part of the book is that the mouse tricked the fox. It reminded me of when I got my tonsils out because it was hard to eat and talk. It reminded me of the dentist office because most of the story took place there.
We recommend this book to people who like books with good illustrations and who would enjoy a story that you can picture in your mind. We also recommend this book to people who like going to the dentist. We think this book is good for all grades because it is a Newbery Honor book.