Baseball Saved Us
Written by Ken Mochizuki
Illustrated by Dom Lee
Reviewed by Brian K. (age 8) & Rom F. (age 8)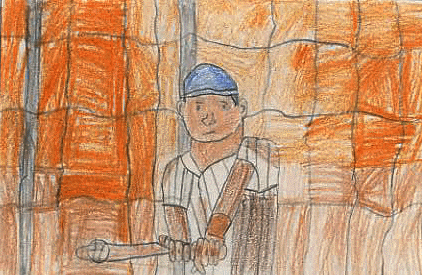 Were you and your family ever forced to live in an internment camp? The boy in this book was forced to live in a U.S. military camp because Americans felt that they could not even trust Japanese Americans. The United States was at war with Japan. His family was very sad because they had to leave their home and live in a camp that was more like prison. It had guards so they could not escape. One day, the little boy's dad said, "We need to build something." He thought it would make people happy if everyone helped build a big baseball field. They worked and worked and worked. Finally, the baseball field was finished with benches and cages just like a real professional baseball field. Read this book to find out if the baseball field made everyone happy and if baseball really saved them!
We think that the lesson in this story is to never give up and always believe in yourself no matter how bad things may seem. We liked the illustrations because they looked like real photographs. We think the illustrator was creative because he drew pictures in slow motion. We also liked the story because baseball is our favorite sport and this book has good suspense. We felt amazed at the end of the story because it did not end the way we expected it too.
We recommend this book to people who like baseball and like to read. If you like to read stories about things that happened in the past, this would also be a good book for you. We hope you like it as much as we did!