The Talking Eggs
Written by Robert San Souci
Illustrated by Jerry Pinkney
Reviewed by Gabby C. (age 9) & Montana M. (age 8)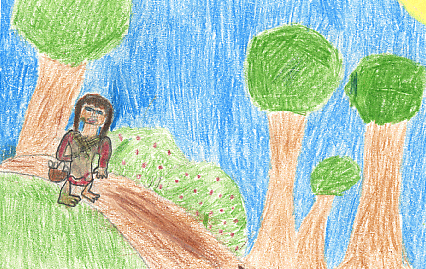 Have you ever been mistreated? Well, if you have, you may relate a lot to this book. One hot day, Blanche's mother sent her to get a bucket of water from the well. When she arrived, she found an old woman in a ragged, black shawl that was close to fainting from the heat. The old woman asked Blanche, "Please child, give me a sip of water. I'm bout to die of thirst." "Yes," Blanche replied nicely. I guess you know by now that Blanche is a nice and smart girl, maybe too nice for her own good. Her mother and sister are the complete opposite of her. For example, the mother and sister, "Scolded and hit Blanche until the frightened girl ran into the woods." The reason they scolded her was because the water she brought back wasn't cool enough for the both of them. When Blanche was far into the woods, she met the old woman that she had met earlier at the well. The old woman asked Blanche, "What's made you cry so, you poor child?" Blanche explained what had happened. She said that she was afraid to go home again. So, the old woman invited Blanche to her house for the night, but she said that Blanche was not allowed to laugh at anything she saw. Blanche gave her word that she wouldn't laugh. WIll Blanche keep her promise? Will she end up laughing at anything she sees? Will she turn mean and nasty like her mother and sister. What will Blanche see? We cannot give you the answers so, you'll just have to read this book yourself.
I (Montana) especially love this book because of the vivid description. I (Gabby) enjoyed this book because of the characters. I think they are very realistic and interesting. We both adored the illustrations because they are very colorful. We would also like to mention that this book won the Caldecott honor. We thought this book was fantastic. We thoroughly enjoyed reading it.
We recommend this book to anyone who loves heartwarming stories or is in search of a great book. We also recommend this book to people who like stories that teach good life lessons such as: Always be kind and gentle to other people and things and one day, you might get something wonderful in return. This book is a great book to read on your own or share with someone else. This book is great for people of all ages. We think you will love it as much as we did.