The Value of Tenacity - The Story of Maurice Richard
Written by Ann Donegan Johnson
Illustrated by Ann Donegan Johnson
Reviewed by Chris P. (age 8) & Nitesh M. (age 8)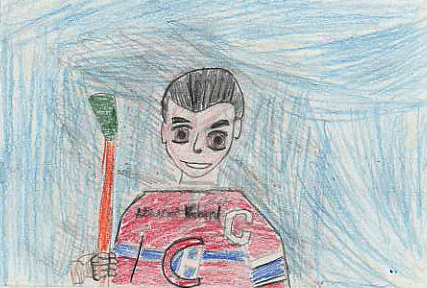 Do you like hockey? This book takes you through the great adventures of hockey superstar Maurice Richard and how he finds his own tenacity to succeed. He tries, tries, and tries again. This may seem like it's all about hockey, but it's mostly about what Maurice accomplished by using his secret weapon: tenacity. Maurice had a lucky hockey stick named Slapper. He sometimes fell down when he was learning to skate as a child, but his imaginary hockey stick friend Slapper said, "Don't give up." Maurice kept using Tenacity and therefore, accomplished great things. For example, he eventually made it onto the professional hockey team the Montreal Canadians. He tried to never let his team down. He even played when he was exhausted. One day, Maurice injured himself and thought no one would want him to play on their team again. Read this book to find out if all of Maurice's hard work paid off and to see if he lived out his dream!
I (Nitesh) think this book was cool because it was amazing that Maurice did things that were super hard to accomplish when he was a kid. For example, there was one time when he made a hockey rink out of wood with his dad. This taught me that if you use the power of tenacity, you can reach your goals.
I (Chris) thought the goals that Maurice achieved were really amazing.
I (James) think the best part in the book was when Maurice scored his 500th goal because it was cool.
If you like hockey, long adventure books, or you want to see how using the value of tenacity can help you, you should definitely read this book!