A Chair for My Mother
Written by Vera B. Williams
Illustrated by Vera B. Williams
Reviewed by Angela B. (age 7) & David M. (age 8)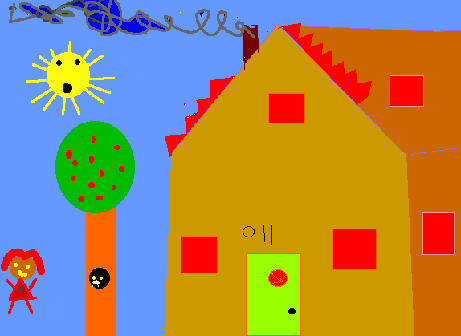 One day a girl and her mother went to buy shoes. They smelled smoke. They ran to the smell. OH NO! It led to their house. It was in flames! Everything (but the clock) was gone! After they bought a house, they had everything they needed except for one thing...A CHAIR! The girl and her mother were trying to save a lot of tips from her job to buy a chair. They put the coins in a jar to save up for the chair, and a year later...read the book to find out!
We like this book because it has good illustrations, feelings, and it is interesting. This book hooked us because the story seemed so real. It reminds me (Angela) of my mom buying me a chair (It was serendipity!). The book makes me (David) think of how brave all the family in the book must be not to panic at a fire in THEIR house. We felt like we were there. Vera B. Williams is a great writer and illustrator.
We recommend this book to people that had fires in their house and especially did not panic. We recommend this book to all children and adults because they are brave!