Wayside School is Falling Down
Written by Louis Sachar
Reviewed by Mitchell D. (age 8) & Yunsung C. (age 8)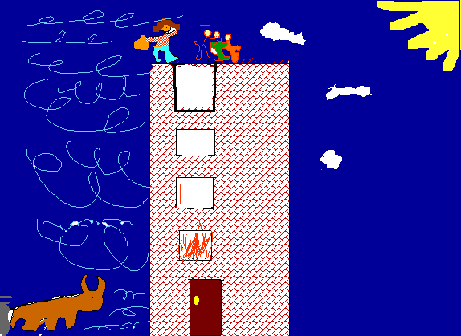 Have you ever heard of a school 30 stories high? These kids have! This book is about kids that go to a school--not just any school--Wayside School. Really weird things happen at school. For instance, people get saved by pigtails and get cheered up the wrong way. This book has 30 chapters. They are all different. The chapters have the same people but have different main characters. Sometimes the chapters have more than one main charachter. There are other books in this series like Sideways Stories from Wayside School and Wayside School Gets A Little Stranger.
We both like Chapter 28 Valoosh and Chapter 30 Wayside School is Falling Down. In Chapter 28 it starts one way and then goes another way. We like Chapter 30 because you are trying to figure out who is right but nobody is right. I (Mitchell) like the book because Louis Sachar lets you make up your own ending. I (Yunsung) like the book because Louis Sachar put some good words in the book.
We recommend this book to people who like characters who are different and who like funny stories.