Zathura
Written by Chris Van Allsburg
Illustrated by Chris Van Allsburg
Reviewed by Ali S. (age 8) & Luke G. (age 7)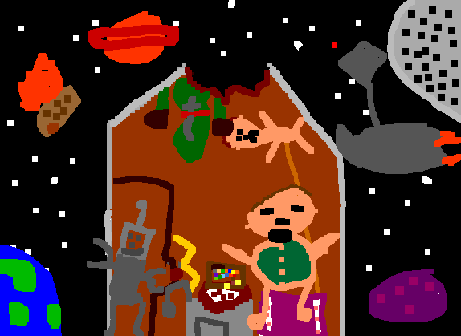 Have you ever read Jumanji? Do you like space? Well if you like space you'll definitely love this book, Zathura! This book is all about Danny and Walter playing a board game about space. The mom and dad go out and while they're out Danny asks Walter to play catch. Walter says "no" so Danny beamed Walter in the head with a baseball. When Walter and Danny are outside they find a skinny board game box and go back inside with the box. First they find a jungle board under the board game top. Then they find a space board under the jungle board. 5...4...3...2...1...BLAST OFF! Right when Danny rolls the die they go into space. In the game (story) they get into all sorts of mischief. For example, if you got too close to Tsouris 3, a planet, your gravity is greatly increased. When the giant meteor crushed down on the ceiling and broke the TV it was sort of freaky. And..oh my gosh they can't stop playing until they reach the end! To find out what happens, you'll have to read this great book, Zathura.
Our favorite part was when Danny blew up like a balloon because it was silly. We liked the illustrations because they were realistic. When we read the book we felt curious, silly, and crazy.
We recommend this book to all ages because this is a very funny book. If you like silliness you'll definitely love this book, Zathura!