Sable
Written by Karen Hesse
Illustrated by Karen Hesse
Reviewed by Christina V. (age 7) & Jenny Y. (age 7)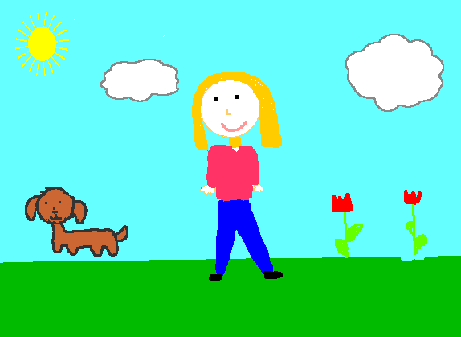 Do you like dogs? Well this book is about a dog named Sable. Once there was a girl named Tate. Tate loved dogs. But there was one problem. The problem was that Tate's mother did not like dogs. She didn't want to hear about dogs. Then one rainy day Tate's mom's cat saw a dog. Tate looked out the window and saw the dog too. Then Tate got a bowl of water and went outside to the dog. The dog drank some water. Tate asked her dad if they could keep Sable. They kept Sable in the shed. Tate's dad built Sable a bed. Then Sable caused trouble with the neighbors. Do you think Tate's mom and dad will let Tate keep the dog?
I (Jenny) liked the book because it had a surprise ending. My favorite characters were Sable and Tate. Tate was friendly and Sable was cute. I liked the illustrations because they looked as if they were done in pencil. I (Christina) liked this book because it reminded me of when I first got a dog. While I read the book I pretended to be Tate.
We recommend this book to people who like dogs that cause trouble. The book has a really good ending.