The Chalk Box Kid
Written by Clyde Bulla
Illustrated by Thomas B. Allen
Reviewed by Mohammed D. (age 8) & Albert C. (age 9)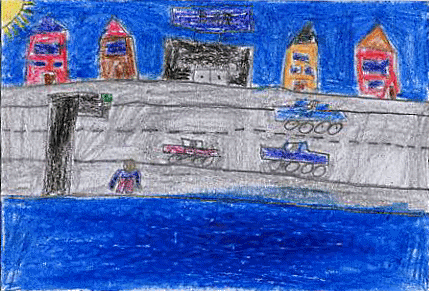 The Chalk Box Kid is a book about a boy named Gregory. He has a terrible day because he is moving and he can't celebrate his birthday. When Gregory went to his new house he was happy because he finally had his very own room. The next day he went to see his new neighborhood. That day when he came back he saw Uncle Max watching TV. Gregory went to his room. In his room he saw another bed with a guitar on it. Gregory's pictures were covered by Uncle Max's pictures. Gregory was sad because Uncle Max was now taking over his room. When Gregory went to school things got worse. He had trouble making friends. Read this story to find out what happens to Gregory.
We like this book because it was really interesting. We wanted to find out what happens on each page. I (Albert) like this book because the illustrations look real. My favorite part is when Gregory drew the garden. I (Mohammed) like this book because Gregory makes something very cool at the end of the book. He creates a beautiful chalk garden and many people come to see it.
We recommend this book to children who are new to a school or who might be lonely. If you have recently moved to another house you might enjoy this book because you might feel the same way. If you like to draw pictures of animals and gardens then you should read this book.
We think that second through fourth graders will be able to read this book because it's not too easy and it's not too hard. The Chalk Box Kid teaches a good lesson. If you liked reading The Ugly Duckling or Charlie the Caterpillar, you will really like reading The Chalk Box Kid.