Thank You, Mr. Falker
Written by Patricia Polacco
Illustrated by Patricia Polacco
Reviewed by Paige M. (age 8) & Irmarie D. (age 9)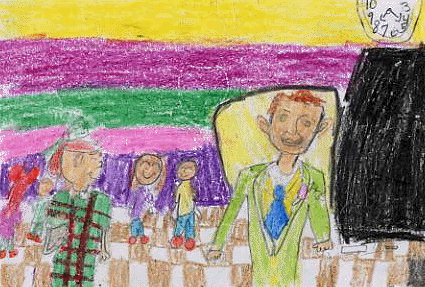 Do you have trouble learning? A girl named Trisha did. She loved books. Her brother would come home with books and read them to her. Soon she turned five and Trisha went to kindergarten. She hoped to read. She heard and saw first graders reading across the hallway and sounding out words. A year passed and Trisha went to first grade. In first grade, Trisha started to read. The book they were reading was "Our Neighborhood." Kids would see words but all Trisha saw was swirly lines. Soon she learned math. Kids saw numbers but all Trisha saw was blocks piled upon each other. Children began to tease her.
Years passed and she still could not read. One day her mother got a letter that said there was a teaching job in California for her. So they went to California. It took five days to get there. Trisha went to a new school. She thought it would be different. But it was the same. Children still teased her. A boy would scream and say, "Hey, dummy! How come you are you so dumb?" Trisha would feel her eyes burning. One day in 5th grade there was an announcement. There was a new teacher. His name was Mr. Falker. Read the book to find out if Mr. Falker can help Trisha learn.
We think the big idea in this story is to keep on trying and never give up.
I (Paige) like the book because there are such wonderful illustrations. They are beautiful and colorful. I (Irmarie) like the book because it reminds me of my time in first grade when I couldn't read. I felt sad.
My (Paige's) favorite part was when Trisha would draw beautiful pictures because I liked how people would crowd around her and Trisha would feel good. My (Irmarie's) favorite part was when Mr. Falker came because he would hold up pictures that Trisha made and show them to the class, and it made her feel good inside and made her feel safe.
We liked the illustrations because they look life-like and they go really good with the words. Our favorite characters are Mr. Falker and Trisha. We like Mr. Falker because he helps people who really need help. We like Trisha because she is a good person even though she doesn't have friends.