Sophie Hits Six
Written by Dick King-Smith
Illustrated by David Perkins
Reviewed by Melissa P. (age 8) & Shauna O. (age 9)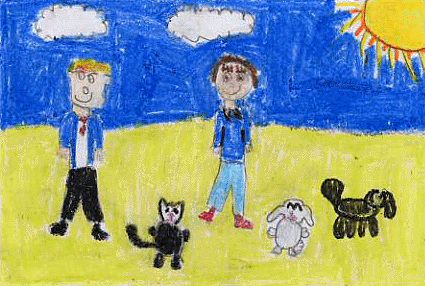 This story is about a little girl named Sophie. Sophie is a Tomboy who loves animals. She wants to become a farmer when she grows up. Everyone is telling her she can't be a farmer because farmers are not women. Sophie says she can be anything she wants to be because there's no such thing as a man's job or a woman's job!
Sophie finds a cat and thinks it's a boy, but it has four kittens. Sophie has no clue what to name her. She used to call her Tom but now she tries to think of a new name. Sophie has a hard time, so she calls her Aunt Al from the Highlands in Scotland. Aunt Al thinks of the name Tomboy but Sophie thinks that name is even worse than just plain Tom. "Do you know what Tomboy means?" asked Aunt Al. "No," says Sophie. "It means a high spirited girl who likes romping around." "Of course," says Sophie. "That's a great name."
At the dinner table Sophie told everyone the news about the cat's new name. Matthew and Mark, Sophie's twin brothers think that Tomboy is a silly name for a cat. "Don't they teach you anything in school?" said Sophie. Sophie told the twins what the word Tomboy means. Do you think they changed their minds?
Sophie soon meets a boy named Andrew at school. She was friends with Andrew because his father was a farmer and he was a nice boy. A few days after they met, field day began and everybody needed a partner for the race. Andrew and Sophie planned to be partners. On the day of the race Andrew had the mumps so Sophie lost her partner. A girl named Dawn didn't have a partner either, so Sophie and Dawn became partners. This was not a good partnership because Sophie was really short and Dawn was really tall.
A couple of weeks after the race Sophie's class had an assembly on Bethlehem. Sophie and a lot of other kids from her class played the crowd in Bethlehem. Sophie's father said, "You have the easiest part of the play. All you have to say is rhubarb, rhubarb, rhubarb." So on the day of the rehearsal, Sophie did as her father said. Her whole class laughed at her and Sophie got in trouble with the teacher.
The next day Sophie went to her friend Andrew's house. Andrew's dog just had puppies and Sophie really wanted one. Her parents said she was too young to have such a big responsibility.
On Christmas Day Sophie's father went out and didn't tell anyone where he was going, and when he came back he was holding a ... Sorry, you'll have to read the book to find out what the surprise was!
I (Melissa) love this book because it is about friendship and responsibility and I also love animals. I (Melissa) think I am like Sophie because I am sort of a Tomboy. I almost never wear dresses unless there is a special occasion. I also play outfielder in softball too.
I (Shauna) love this book also because of the surprise ending and because there are many animals in it. My favorite character is Sophie because I'm a lot like her because she loves animals and so do I. And we are both Tomboys too. I can tell Sophie is a Tomboy because her hair is always a mess and she wears boys clothes. I know I'm a Tomboy because my brother says I am and I sometimes wear boys clothes too. And I like bugs and spiders!
We would recommend this book to people who love animals. We think this book would be good for strong second grade readers and up. Since most second grade girls like puppies, they might like this book because it has a lot of animals in it. Maybe some boys would like this book because most boys like to race and there is a big race in this story. We think you will enjoy Sophie Hits Six because it is an interesting book.