Stephanie's Ponytail
Written by Robert Munsch
Illustrated by Michael Martchenko
Reviewed by Casey G. (age 8) & Tiffany L. (age 7)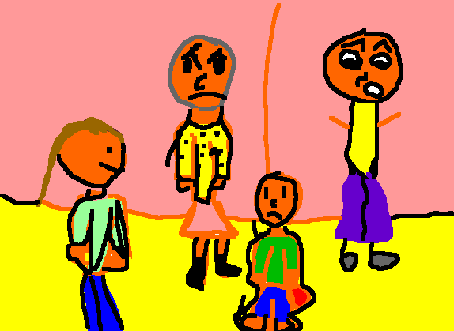 "None of the kids in my class have a pony tail. I want a nice ponytail coming right out the back", said Stephanie. When she went to school the other kids saw her and said, "ugly, ugly, very ugly." She said, "It's my ponytail and I like it." The next day the girls wore a ponytail coming right out the back. The next day her mom said, "Would you like a ponytail coming right out the back?" "No!" "Then, that's that", said her mom, "that's the only place you can do ponytails." "No, it's not", said Stephanie, "I want one coming out the side." Stephanie keeps trying new ponytails but everybody keeps copying her. Then she finds a way to trick them. This book has a lesson! Do not copy anybody because if you do something will happen to you.
We like this book because the illustrations are great. Our favorite part was when Stephanie tricked the kids who were copying her. We think Robert Munsch's books are funnier than anything else. Robert Munsch is a great author. We also read his other books: Thomas's Snowsuit, Paperbag Princess and Stephanie's Ponytail. These are the funniest.
We recommend this book to people that like funny books. If you have read any other Robert Munsch books and liked them you will love this one.