The Relatives Came
Written by Cynthia Rylant
Illustrated by Stephen Gammell
Reviewed by Brittany B. (age 9), Cari G. (age 8)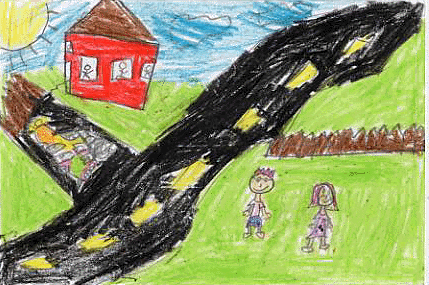 A family drives all the way to their relatives' house before their grapes are purple. They spend the summer there. When they get to their relatives' house they always hug, kiss, and have fun. They have to have four different hugs to get through the house. There are so many relatives they have to wait for someone to finish eating before they can eat, some have to sleep squished in a bed, and some sleep on the floor. The whole family plays together and helps each other. If you want to find out if the family returns home when their grapes are purple, read this book.
Our favorite part is when everyone is sleeping and some people are falling off the bed and using up all of the blankets. This story reminds us of when we are having fun. We like the book because it is a Caldecott Honor, it has great details, and it is based on a true story. When we read this book we laugh hysterically. This book makes us wonder if Cynthia Rylant's relatives really look like the characters in the book. The big idea of this story is to have fun while spending time with your families. We like The Relatives Came because we like stories about families that spend time together. We think this book has good descriptions and good illustrations. The illustrator uses so many unusual colors. The illustrations make the story look real and make the story fun to read. This book is really great for you.
We recommend The Relatives Came to people who like to laugh because the story and illustrations are funny. Young children will enjoy this book if it is read aloud to them. If you like true stories, you will like this book.