The Other Side
Written by Jacqueline Woodson
Illustrated by E.B. Lewis
Reviewed by Allie K. (age 9) & Kelsey D. (age 9)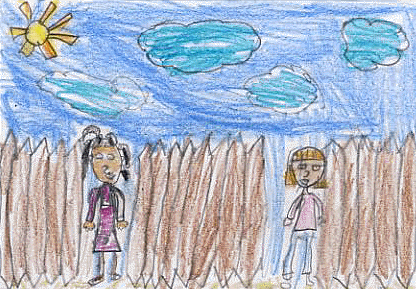 There is a fence that separates Clover and Annie's homes because of their color. Annie sees Clover while she is sitting on the fence. Clover and her friends are playing jump rope and Annie asks if she could play. One of Clover's friends says, "No," without asking the others. Clover asks her mom why the white people and the African American people have been separated. Her mom says, "Because that's the way things have always been." If you want to find out if Clover and Annie end up being friends, read this book.
We think the big idea is you should not judge a person by his/her color. We think this book is trying to tell you that all people should get along.
Our favorite part is when Clover sees Annie sitting on the fence because Clover get curious of why Annie is always sitting on the fence. We do not like Sandra because she says no when Annie asks to play. We think it is not fair that white people and African American people were not able to be seen together long ago. This book makes us wonder how the people felt when the white children and the African American children went to different schools and when the African American people had to sit in the back of buses. We like the watercolor illustrations because it makes the pictures come to life.
We recommend this book to anyone who wants to learn about how things had to be a long time ago. We also think that people who like books about friendship would enjoy this book. If these recommendations are fit for you, and you like books about getting along, read The Other Side.