The Night Tree
Written by Eve Bunting
Illustrated by Ted Rand
Reviewed by Robbie S. (age 8) & Ethan A. (age 8)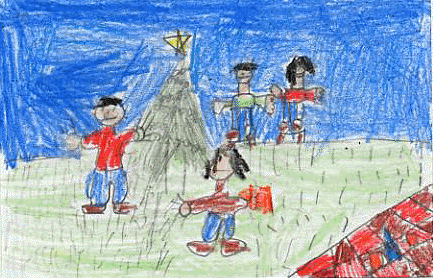 A family cares about nature. Every Christmas Eve this family goes to the forest on the other side of the town to look for their tree to decorate it. When they find their tree they start to decorate it with strings of popcorn, balls of sunflower seeds, pears, and apples. They wait and wait anxiously for the animals to come and eat their feast. While they are waiting they sing songs and drink hot cocoa. If you want to know how it feels to care for nature, read this book.
The illustrations make the reader feel like wandering through the book. The big idea of the book is to treat everything how you would want to be treated.
We like the part when the family decorates the tree because they are being nice to the animals and celebrating their religion. We like the book because of the colorful language. This reminds Robbie of when he is behind his fence at home because it looks like a forest. He pretends squirrels are other kinds of animals. We compared this book to Owl Moon because it is night and winter in both books. The families in both books are looking for animals.
We recommend this book to people of all ages because it teaches a really good lesson. The lesson is to care about nature. We recommend this book to all families because it is about a family. If you like this review, read Night Tree by Eve Bunting.