A Chair for My Mother
Written by Vera B. Williams
Illustrated by Vera B. Williams
Reviewed by Aanand B. (age 8), Jeff B. (age 8) & James L. (age 9)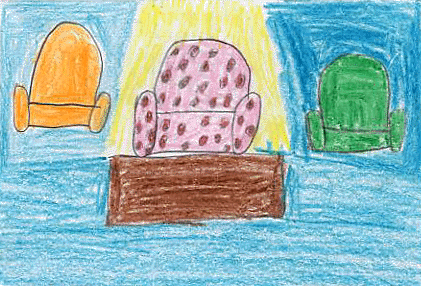 Have you ever wanted something really badly? Well this family is trying to save money so they can buy a rose, velvet chair because their apartment is burnt in a fire. They start gathering the mom's tips and grandma's change and put the coins into a jar. After the fire the neighbors bring food, furniture, and much more, but the family never gets comfy chairs to sit on. They finally fill their jar with coins and go shopping for a soft chair. Do you think they will get the chair they want? Read this great book and find out.
We think the illustrations are great because they help us understand the story more.
Our favorite part is when the family gets the chair because they look really happy. We think the big idea of this story is that if you want something really bad you will try anything to get it, hopefully it will work out. We think that A Chair For My Mother is similar to Charlie and the Chocolate Factory because Charlie wants the golden ticket so bad and the family wants the chair. We think the author's writing style is good because it is clear so other people can read it. We think the book is great because the family gets what they wanted.
We recommend this book to people who want something really bad because it may give them ideas on how to get something they want. We also recommend this book to readers who love a happy ending. We think this book is right for people who understand how to read books with flashbacks. If these recommendations are good for you, you have to read this book!