Just Me and My Cousin
Written by Mercer Mayer
Illustrated by Gina and Mercer Mayer
Reviewed by Yerelsy R. (age 8)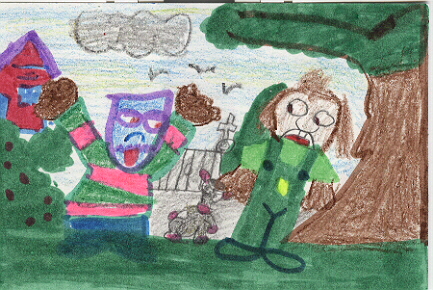 This book is about Junior and his cousin. Junior goes to his uncles house to visit. Juniors cousin likes to play mean tricks on him. Juniors cousin tells him to climb a tree then his cousin takes the latter away so Junior can not get down. He also throws Juniors Super Critter out the window. The whole time Junior was at his uncle?s house visiting, he had a terrible time. To know what happened at the end of this book you will need to read it.
I feel as if I was in this book. What has happened to Junior, has happened to me. My cousin likes to play mean tricks on me when I go to visit. This book made me feel happy because it made me think of my family and the I miss my cousin. This book reminds me of my own life. I liked how the author wrote about the characters. The author makes the characters have realistic attitudes.
I would recommend this book to my uncles and cousins. I would recommend this book because when I go to visit my cousin she play tricks on me. Just like in the book my cousin is no mean just when I go to her house. I think my family members would enjoy this book.
Original Student Review In Spanish
Este libro es de Junior y su primo. Junior va a la casa de sus tios para vistar. Al primo de Junior le gusta hacer males. El primo de Junior le dice que se suba al arbol despues le quita la escalera. Tambien le tira su mono Super Critter por la ventana. Todo el tiempo de visita fue terrible. Para saber lo que paso al fin del libro tendras que leer lo.
Yo me siento que estoy en el libro. A mi me a pasado lo que le pasa a Junior. Mi prima es mala como en el libro. Este libro me hace sentir bien porque extra?o a mi prima. Este libro me recuerda mucho a mi vida. Lo que mas me gusto fue como la autora escribe de los personajes. Hace que los personajes se parescan a tu y a mi.
Yo recomendaria este libro a mis tios y primos. Recomendaria este libro porque cuando fui a la casa de mis tios mi prima era mala y me hacia trampas. Como en el libro mi prima no es mala no mas cuando voy a su casa de ella. Yo pienso que a mis familiares les encantaria este libro.