Amanda Pig, School Girl
Written by Jean Van Feeuwen
Illustrated by Ann Schweinger
Reviewed by Paulina K. (age 7)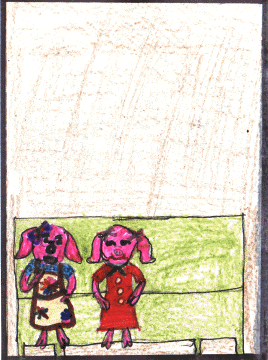 The book is about a girl named Amanda. She is a pig and it's her first day of school. Her brother already goes to school. When the bus arrived, Amanda got on. Amanda did not know anyone on the bus. But Amanda's brother almost knew everyone on the bus. She met a pig named Lollipop. Amanda and Lollipop became friends. They were even in the same class. Their teacher's name was Mrs. Flora Pig. Lollipop was shy but Amanda was not shy. Amanda was a happy girl.
I like this book because it reminds me of my teacher Karen because this is a book about school. I also like this book because it's a friendship book. At first, Lollipop was sad but at the end Amanda got an idea that they could draw pictures of themselves and they traced themselves. The idea made Lollipop happy. Then both of them walked to the school bus.
I think children who like school should read this book.