Nate the Great and the Snowy Trail
Written by Marjorie Weinman Sharmat
Illustrated by Marc Simot
Reviewed by Justin K. (age 7) & Marvin T. (age 8)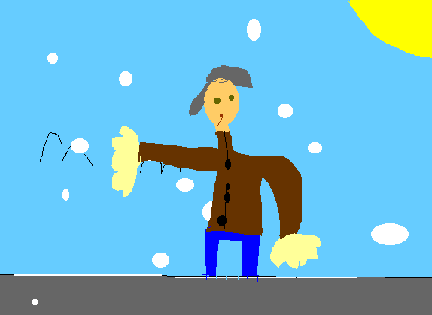 The story is about a kid who solves mysteries for his friends. The characters always lose something in this book. Rosamond lost Nate the Great's early birthday present. Rosamond thought Nate the Great's present fell off her sled when she was pulling her cats. She wanted Nate the Great to find the present. Rosamond did not want him to know what it was because it was a surprise. Nate the Great and his dog, Sludge try to find the present. He used many clues to help him find it. He knew Rosamond had bought six cartons of milk earlier that day. He looked for footprints and scratches as clues to find the present. He saw a scratch on the tree Rosamond passed. Nate the Great knew to look up in the tree. He saw a cat in the tree with a birthday card around it's neck. He solved the mystery - the cat was his present from Rosamond.
We liked this book because it was funny. We thought it was funny when Nate the Great said, "I was glad I had one birthday a year" because he didn't want to get weird presents from Rosamond.
This book is like another mystery called Jeffrey and the 4th grade Ghost. Nate the Great and Jeffrey are both boy detectives.This book reminded Justin of when he lost his gameboy.
Justin recommends this book to boys who like mysteries. Marvin recommends this book to people who like mysteries and people who like to play in the snow.