Paul Bunyan and His Blue Ox
Written by Jean Pidgeon
Illustrated by Patsy Jensen
Reviewed by Justin B. (age 7)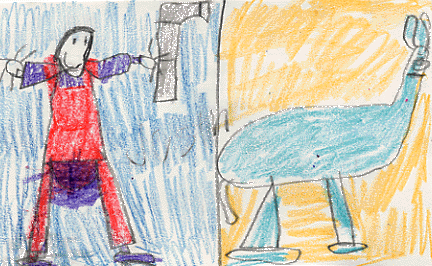 I really liked the story of Paul Bunyan. I liked the make-believe used to show how land and water forms were made across the United States. Paul Bunyan traveled from Maine going west across our country. As he did, he carved out our lakes as he walked. He also made mountains, and carved out the forests to make way for the Grand Canyon.
I liked how he used his ax to clear the land along the way. He also made these things with the help of his blue ox, Babe. I also liked the way Babe was his best friend, as well as how he looked real, yet huge in the story. I also liked the way the map of the U.S. shows Paul Bunyan's journey. The story and pictures go well together to show an interesting way as to how these things were made.
I think that others will want to read this book because it keeps your attention to see how Paul goes from place to place and what he does each time he gets to a new place.