Harry Potter and the Chamber of Secrets
Written by J.K. Rowling
Illustrated by Mary Grandpre
Reviewed by Rafe G. (age 8)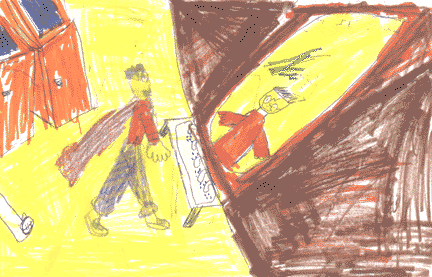 Have you read J. K. Rowling's series? Well, if you haven't, I advise you to. If you like adventure you should read this series because it hold lots of adventure.
This book is about Harry Potter's second year at Hogwart's School of Witchcraft and Wizardry. Harry gets a warning just before he goes back to Hogwart's: "Don't go Harry Potter. Danger is waiting for you." Dobby, the house elf is going to get Harry a lot of broken bones. This book was really exciting. It made my heart do a little dance around my body. Whenever Dobby is about to let a secret slip to Harry he starts banging his head on the wall or with anything he can find around him screaming, "Bad Dobby, bad, bad Dobby!"
I really, really like this book because the impossible becomes true and I love books about things that aren't true and will never be true. I loved when Dobby enchants the train platform Nine and Three Quarters so Ron and Harry have to fly Ron's car to school. This book is so much like the third book (Harry Potter and the Prisoner of Azcaban) because you can't wait to finish the book but when you do you wish you hadn't.
If you have a good imagination and love adventure, I advise you to read this book because it has both of these things in it.