Fly High Fly Low
Written by Don Freeman
Reviewed by Jennifer T. (age 10)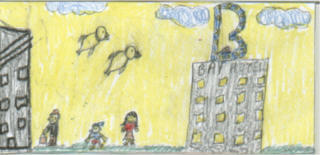 Have you ever lived in or visited a big city? This story is about a pigeon named Midge who lived in a big city. One day in San Francisco there was a tall building and the name of it was The BAY HOTEL. In the letter B of the sign there was Midge. The pigeon loved the letter B but there was no reason why he loved that letter. Next morning Midge the pigeon invited his friend Sid to sit with him on his favorite letter. Next morning, a few minutes after Sid arrived, two tiny eggs came out from Sid. That same day a big truck came to take down the letters of the sign. At that time Midge?s friend Sid was in the nest with her tiny eggs. When the men were taking the letters of the sign down they saw Sid in the nest with her two eggs. What do you think the truckers did when they saw the nest with two eggs? Do you think they could take the letter down and break the eggs?
I like the story because it was a wonderful story about what mothers do for their babies. My favorite part is when Sid had her two eggs and how she took care of them.
This story reminds of the time that I went to the park and I saw two birds and their mother was giving worms to her babies.
I recommend this book because it may have a lesson like when they put the letter down they felt excited because they saw a pigeon with two eggs. I would recommend this book to my teacher. It might interest beginning readers who like animals, especially birds.