The Wish
Written by Gail Carson Levine
Reviewed by Katie R. (age 10)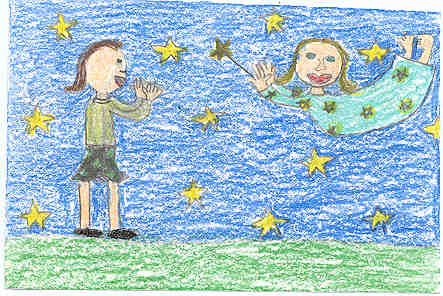 There's nothing wrong with Wilma Strutz. She's really nice. But at Claverford, who cares? The popular girls in Wilma's are BeeBee, Ardis, and Nina. One day an old lady comes and grants Wilma a wish. Wilma wishes that she could be the most popular girl in school. Suddenly, everyone wants to sit by her at lunch. All of the boys ask her to the Claverford Night Dance, but Wilma doesn't know what one to choose. Finally, she chooses a boy named Jared. Jared is one of the most unpopular boys in school. If Wilma goes to the dance with Jared, will she become unpopular? Find out when you read this book.
I like this book a lot because Wilma has to face all of these problems and overcomes these problems in many different ways. I like the character Ardis because she is a good friend. She covers for Wilma all the time.
I recommend this book to all people who like mysteries. This is not a mystery book but, it has mystery in it. You always wonder what's going to happen to Wilma and if she is going to become unpopular. It's very exciting.