Arthur Accused!
Written by Marc Brown
Illustrated by Marc Brown
Reviewed by Lorenzo A. (age 8) & Michael Mc. (age 9)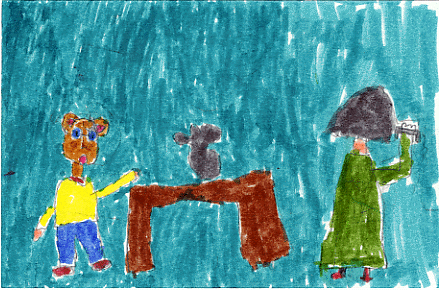 Do you want to know how Arthur got into a solid case? Then I'll tell you a little about it. It all started when Arthur collected money for Ms. MacGrady, the lunch lady, to help b Ms. MacGrady because she was trying to raise money to buy a dog for the fire department. Arthur volunteers to help her raise the money. Someone stole the quarters that Arthur collected to help Ms. MacGrady. Buster thinks that Arthur stole the quarters. Will Buster find out what happenened to the quarters?
Our favorite part is when Arthur gets a high score. It reminds me (Lorenzo) of when I got a high score on a Nintendo 64 game. We liked the book because it was funny. We liked the book because everybody tried to help out. I (Michael) like the book because Buster tries to help out and tries to act like a detective. That was my favorite part.
This book is a good book for people who like detective stories. This is also a good book if you like to solve cases as you read. This book is a detective book.