Frindle
Written by Andrew Clements
Illustrated by Brian Selznick
Reviewed by Chris K. (age 10)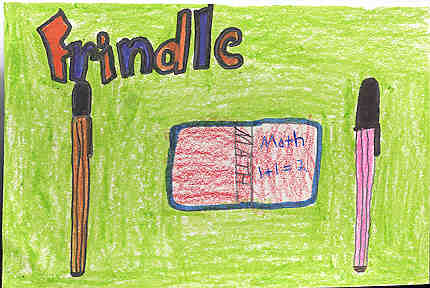 The book Frindle is about a boy named Nick who has some pretty crazy ideas. For example, once he turned his classroom into a tropical island by dumping sand on the floor, turning the thermostat up to 90 degrees, and hanging up paper palm trees. The story gets its name because Nick's fifth grade teacher said that he could change anything he wanted if he worked hard to do it. So, Nick decided to try and change the word pen into frindle. It worked! The new word was a big hit all over the world!
I liked this book because it was very unpredictable unlike some other books I've read. I liked the part when Nick made bird noises but the teacher didn't know who it was and blamed someone else. Nick reminds me of my friend, Kris, because he too has some pretty crazy ideas.
I recommend this book to people who like funny things because this book is very funny.