Backstage with Clawdio
Written by Harriet Berg Schwartz
Illustrated by David Catrow
Reviewed by Brandon W. (age 8) & Nitesh M. (age 7)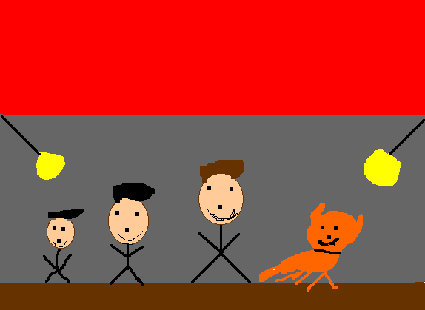 Do you like going to the theater? Then you'll love this book! Clawdio is a cat. He is no ordinary cat. He is a theater cat. Clawdio lives in a theater that is putting on the play Peter Pan. He thinks he is the stage manager's assistant. In this book you will learn what is going on backstage in a theater.
When we read the book it reminded us of our work on our school broadcast. I (Nitesh) felt stage fright like the actress, Jenny, in the story. It reminded me (Brandon) of when I almost messed up on the school broadcast as Clawdio almost did in the story. We liked the illustrations because they look so cartoon like. Our favorite picture was when Clawdio looked in the mirror and imagined himself as the character of Captain Hook.
If you like Radio City Music Hall in New York City or any other place to see a live show, you will like this book. We recommend this book to people that like the theater and to people who like cats as well as wonderful illustrations. Even if you don't like the theater, you might like the book because it's funny. Clawdio will make you laugh. It is also interesting. Clawdio can also tell you things about backstage in a theater that you might not have known before!