Zabajaba Jungle
Written by William Steig
Illustrated by William Steig
Reviewed by Javier M. (age 8) & Michael I. (age 8)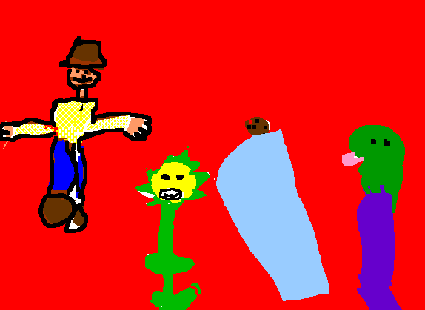 Leonard is fighting his way into the Zabajaba jungle. Leonard gets into a lot of trouble like sleeping on snakes and drinking nectar from a flower. That is just the beginning of his troubles! There are strange talking animals, plants that eat things and a huge butterfly. When he drinks the nectar from the flower, monkeys take him and put him into a hole and take him to court. Leonard is in trouble! Will he get out? You'll have to read the book to find out.
This book is weird because William Steig is so creative. He didn't give the book an ending. In this book William Steig used his imagintion and we really liked that. Javier's favorite part was when Leonard went into the stomach of a monster. It was funny because he found a lot of stuff in the stomach. He even found ancient writing in there! He was having a bad time, but he finally got out. Michael's favorite part is when the butterfly took Leonard away. It was strange that a butterfly could be strong enought to pick up a boy. We both liked when Leonard drank the flower nectar and the flower grew taller with him inside. We both liked the illustrations because they have great colors.
We recommend this book to kids who like weird books and use their imagination.