Frog Medicine
Written by Mark Teague
Illustrated by Mark Teague
Reviewed by Sarah B. (age 8) & Nick H. (age 8)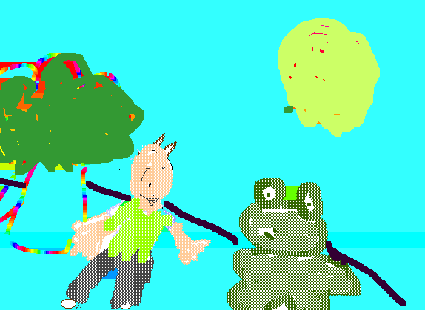 It was time to do book reports in Elmo's class but he was paying attention to a bug crawling across his desk. Everybody else picked a book already and the only book left was "Frog Medicine" by Dr. Frank Galoof. That afternoon, Elmo tried trading for another book, but the kids just laughed. The week passed and things got worse. The longer Elmo put off, the longer the project got. Elmo woke up one morning and he didn't feel good. While he was in the bath, he turned into a frog. Elmo called Dr. Franks. He goes to Frogtown for Dr. Frank's help. You'll have to read the book to find out if Elmo gets the book report done in time.
We thought this book was really funny because Elmo turns into a frog. Sarah's favorite part was when Elmo thought it was raining, but it was just the river. She did not like when Elmo eats worms, but that was Nick's favorite part. Nick likes that part because it reminds him of when he ate spaghetti for the first time when he was little. In this book, there is a frog on every page. Elmo is also in the book, "Pig Stye", a book by the same author. We learned a lesson in this book that you should always listen to your teacher.
We think this book is good for people who like comedy.