Doctor De Soto
Written by William Steig
Illustrated by William Steig
Reviewed by Joseph L. (age 7) & Raza Z. (age 8)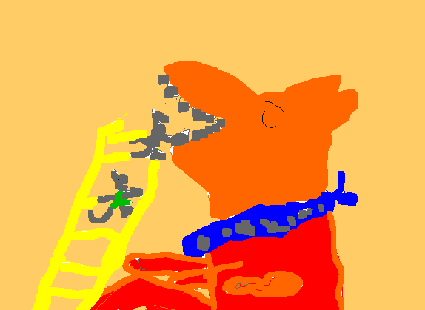 Doctor De Soto is a small dentist, he is a mouse! He is popular with the large animals. One day a fox came with a toothache. Cats and other dangerous animals are not accepted for treatment. Dr. De Soto and his wife let him in because it was pitiful to see him cry. The De Soto's started to help the fox, but the fox had plans to eat them. The De Soto's have their own plan and you will have to read this story to find it out. We learned a lesson. Never eat the people that help you.
We think this book is very funny and that is why we like this book. Our favorite part is when the fox says, "frank oo berry mush." It was funny because he was trying to say "thank you very much" but he couldn't open his mouth. He had something sticky in his mouth. I, Raza liked William Steig's pictures. He makes the story seem real with the pictures. Our favorite character is the fox because tiny creatures like the mice outfoxed him.
If you like books with a mouse that can "out fox" a fox, this is the book for you!