The Runaway Bunny
Written by Margaret Wise Brown
Reviewed by Inesse L. (age 8) & Katie F. (age 8)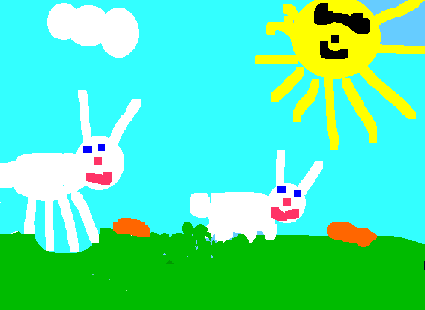 Do you know that there was a little bunny who wanted to run away? So he went to this mother. But his mother said, ?If you run away I will run after you for you are my little bunny?. Whenever he wants to run away the mother does something to find him. Whenever he hides the mother tries to find him. The little bunny says ?I will join the circus?. Then the mother dresses up as a tightrope walker. Whenever the bunny is somewhere the mother is already there.
The pictures are in a pattern. One page is black and white and the next page has colors. The pictures are nice and very creative and have a lot of details. Clement Hurd makes the pictures very realistic. The bunny looks real in the color pictures. She has a lot of imagination.
I, Inesse love the pictures when the bunny is in the flowers. The pictures are beautifully drawn, and I love when the mother gets a costume on so she could find her son.
I, Katie, love the part when the bunnies join the circus because I would love to do the things that they do like the tightrope and the trapeze. We like the youngest bunny because he has a wonderful imagination just like his mother.
We recommend this book to people who love bunnies. This book is good for ages 2 to 10.