Teacher's Pet
Written by Johanna Hurwitz
Reviewed by Amanda F. (age 9) & Zack S. (age 9)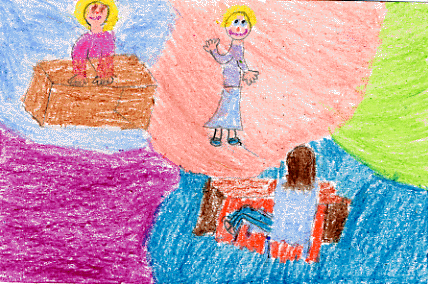 "There was no doubt about it Zoe Mitchell was just as smart as Cricket Kaufman." The school year was about to begin and Cricket Kaufman was ready to be the fourth grade teacher's pet - or was she?
"Hello Mrs. Schaalenburgh" said Zoe Mitchell, a new student in Cricket Kaufman's fourth grade class. Cricket isn't too sure about Zoe as a new student in her class. Will she be as smart as Cricket? Will Zoe take away Cricket's advantage as being teacher's pet?
Well, the middle of the school year comes and Zoe is rising higher on the scale of being Miss Perfect. Zoe is answering all the questions in class and they are always right! She even won the class spelling bee. Cricket's mad, Cricket's angry, Cricket is furious. She's about to explode!
When reading Teacher's Pet we found the big idea. Don't try to be perfect, always work your hardest and be the best that you can be. But Cricket doesn't follow this lesson, she wants to be absolutely positively perfect.
Now Cricket is answering all the questions just like Zoe did in the middle of the school year. It's Cricket verses Zoe. Which one will be teacher's pet? Will Cricket and Zoe ever be friends or will Cricket always see Zoe as her school match? Find out in Teacher's Pet.
We both felt sorry, glad, and annoyed at the characters in the story. We were sorry for Zoe because on the first day of school she was misjudged by Cricket. We were glad for Zoe and Cricket because we knew that they had a special friendship connection but neither of them could show it. We were also annoyed at Cricket because whenever she did something wrong she would always blame it on Zoe.
I (Zack) thought Teacher's Pet was a two thumbs up book because Johanna Hurwitz used extraordinary words like elegant, diamond crystle, and valuable crescent. Johanna Hurwitz also made the lesson seem like the heart of the story because the lesson makes the story so spectacular. I (Amanda) think Teacher's Pet is a life learning story. It teaches you about friendship.
Teacher's Pet reminds us both about the book Rock River because both stories have the same meaning. As long as you try your hardest and be the best that you can be, you'll be a winner. The problems are the same but something special occurs in each story to make it different. Bill Mayson, the author of Rock River, and Johanna Hurwitz have similar writing styles. They both use beautiful language and describe things in detail.
I (Zack) and I (Amanda) liked Zoe the best because she's always relaxed and doesn't care about being perfect. That's important in life!
Johanna Hurwitz's book, Teacher's Pet, is a spectacular choice for people who enjoy reading about the steps in life and friendship. Second, third, and fourth graders will like this book because they will understand the message the the author is saying. If you've read The Adventures of Ali Baba Bernstein, Baseball Fever, School's Out, or Spring Break, you'll love TEACHER'S PET!