Snaggle Doodles
Written by Patricia Reilly Giff
Reviewed by Jenna H. (age 9) & Jina O. (age 8)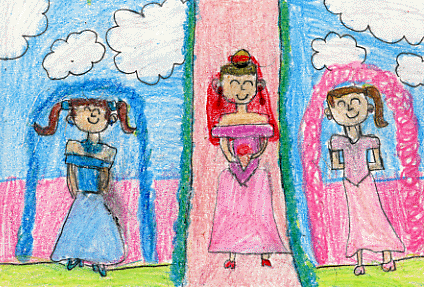 A major wedding is coming up and it's getting out of control! Ms. Vincent, a teacher a Polk Street School, is getting married. The children in Mrs. Rooney's room are very excited for Ms. Vincent and her upcoming wedding day. One big problem! Emily and Linda, who are students in Ms. Rooney's room are at war.
Linda, a bossy girl who tries to be Miss Popular, is always showing off. Emily is a real "softy." She tries to get along with everybody. Even though, Emily seems to always be getting into trouble with Ms. Rooney because she is more focused on things around her than with her schoolwork. She tries to ignore Linda even though she says mean things about her. It's very hard for Emily to ignore all of Linda's harsh words. Especially since they are working together on a science project. Linda was being very bossy to her group, but more bossy to Emily. Then the worst started. The war between Emily and Linda was horrible. Now they are feuding about Ms. Vincent's wedding. Can Linda and Emily work out their problems? Will this be the worst year ever? Find out in this incredible book.
This book makes us remember all of the fights that we got into because Linda and Emily got into a lot of fights together. It made us happy when they were finally friends and their fight was over. I (Jenna) think I am a lot like Emily because I try my best to make friends and to be kind. I (Jina) think I'm like both Linda and Emily because I am sensitive and friendly but I can also be bossy sometimes.
This book taught us that you shouldn't judge people before you get to know them. My (Jina) favorite part was when Ms. Vincent announced that she was getting married because it was very emotional. It really surprised me because I didn't expect that. My (Jenna) favorite part was when Emily accidental wrote "Sail" on a place mat instead of "Sally" because it made me laugh. I (Jenna) thought that the illustrations were a lot like Patricia Polacco pictures because the people look alike. This story made us wonder if Emily and Linda would ever become friends because it seemed like they would never be able to get along.
I (Jenna) like the way Patricia Reilly Giff described what the characters were thinking and feeling because it created a wonderful picture in my mind. I (Jina) think she made very clear pictures in my mind by using very descriptive language.
We recommend Snaggle Doodles for Second through Forth Grader readers. For some Second Graders it would be a just right book and for some Forth Graders it would be an easy read. People who like weddings will enjoy reading this book. If you have ever been in a fight with a friend you will enjoy Snaggle Doodles because the characters can be a role model for you to learn how to get along.