Jake Drake Know-it-All
Written by Andrew Clements
Illustrated by Delores Avendano
Reviewed by Peter Y. (age 9) & Glen D. (age 9)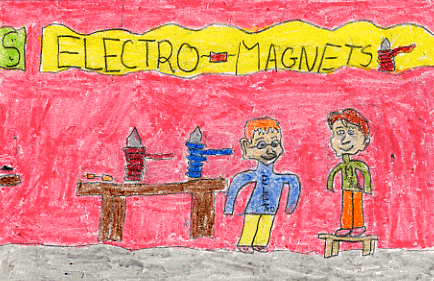 Kevin Young and Marsha McCall are unbeatable in mental thinking. They are first class know-it-alls! A kid named Jake Drake has to become a know-it-all to win a science fair. A Hyper-Cross-Functional-Bluntium-Twelve computer system is the prize for winning the science fair. "I need that computer," Jake says.
One day at Jake's house he finds nails, wire, and batteries. Jake whispers to himself "What makes the most difference on a magnet, more wire or more batteries"
The next day at school by printing out papers and checking out books about animals, Jake fools Kevin and Marsha into a dump of confusion.
With the help of his best friend Willie they make a great project. But is it good enough to win the science fair? Would Willie and Jake be winners or will Kevin or Marsha take first place?
I (Peter) thought the book was great because Andrew Clements got me focused starting from the first page by saying that there were two know-it-alls. I was surprised because no one can know EVERYTHING! If someone said that they were a know-it-all, I would be annoyed. I (Glen) think Andrew Clements focused me in with his chapter titles like: "Hunters," and "Secrets and Spies"? He kept me in wonder, like "What's going to happen next in this chapter?"
My (Glen) favorite part was when Jake asked his teacher if Willie could join his group. I was in this situation a bunch of times and I know how it feels when you think nobody cares about you. Jake also knew how it felt and he did not want Willie to feel like that. My (Peter) favorite part was when Jake fooled Kevin and Marsha because it feels like you have an advantage when you fool someone that is smarter than you are.
Our favorite character was Willie because he made a difference in this story by helping Jake make an okay project outstanding.
We think the lesson to be learned in this book is that friendship is a lot better than greed. In this story Jake kicks Willie out of his group, but then Jake realizes the lesson and lets Willie back in. Jake Drake Know-It-All reminds us of the Horrible Harry series because the main character has a best friend and sometimes they get mad at each other.
We recommend this book because it will remind you of the lessons to be learned in life. If you're in First through Third grade you will like this book because it would be a comfortable read for kids in this age group. It would be too long for Kindergarten readers and too short for most Fourth graders. The interesting chapter titles will stick you into the book! Read about Jake and Wille's experiment with electromagnets in Jake Drake Know-It-All.